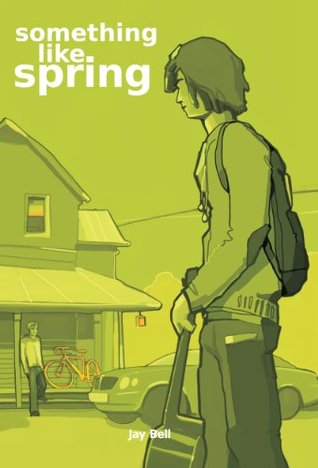 Title: Something Like Spring (Something Like #4)
Author: Jay Bell
Published: January, 2014 by Jay Bell Books
Pages: 452
Rating:






Purchase: The Book Depository
Nothing in this world is permanent. Friends, lovers, even family, can all disappear in the blink of an eye. Without these anchors, it's all too easy to find oneself drifting.

Jason Grant doesn't have much, aside from a beat-up old guitar and knack for getting kicked out of foster homes. His latest placement is set to be just another in a long line of failures. Then he meets Caesar Hubbard, a handsome guy who lives down the hall. For the first time in his life, Jason wants to stay, which means learning to be part of a family, and not letting his feelings–or his actions–ruin his first real chance of falling in love.
Final Thoughts:
I didn't think anything could top Jace's story, but Jason's orphan tale is one that may have done it. With only a guitar to his name, he bounces around foster homes, his (intentional) bad behaviour getting him sent back to the group home, that is, until he meets the Hubbards. It's hard to picture a family more frustrating to be in than this one. Attracted to your foster brother can't be easy. With Jason lusting after Caesar, their eventual relationship was heart-warming, but also left me wanting more for poor Jason. Skip ahead a few years and Ben and Tim rejoin the book—this is where my love for the story really kicked off.

When Jason's life goes to crap, circumstances send him Ben and Tim's direction, moving him into their love nest. I felt like this was such a good way to connect Jason to the guys in this series, while at the same time expanding Ben and Tim's world. I wasn't just getting to see inside Jason's head, it really opened up my eyes and improved my opinion of Tim—which was a good thing considering how I loathed him in Jace's book. In this, I found Tim kind, funny and incredibly protective of those he cared about.
Introducing fourteen-year-old Emma, Jace's niece, as Jason's best friend was a nice touch—particularly her lesbian coming out story. I appreciated their friendship and how each of them pushed the other to open themselves up more. Despite her loud personality, she was still a sweet girl, one who just wanted to get her groove on with a bunch of hot girls. As we progress ahead from the nineties to the late 00s, we're seeing the characters more open about being gay. It's interesting reading these books and watching the way homophobia has evolved over the past couple of decades. So much has changed, and the realistic portrayal here, while not too gritty, is appreciated.
After Caesar, not much happens in Jason's love life, well until the introduction of William. A swimmer, so he's fit, but with Irish skin, so he's also pale, Jason swoons hard. I honestly loved the attempts Jason made to work his way into Williams life, finding it cute, and definitely persistent. And I realise it's more than a little hypocritical of me though, especially after I blasted Tim so much for his tries at working his way into Ben's life with Jace. See, here, William isn't single. Yeah… And with Ben and Tim, even Marcello, all helping Jason, it's feels a bit like, 'okay, fidelity doesn't matter if they're unhappy'.
Still, William and Jason won me over. I wanted nothing more than for them to be happy together and felt the struggle that Jason did when their relationship had its struggles. Things are never made easy for the characters in this series. I learnt that the hard way with Jace. But, these books aren't all about torturing you. There are plenty of happy moments. With the return of old characters in each book, both good and bad, I can't help but love getting wrapped up in this world no matter what it throws at me.