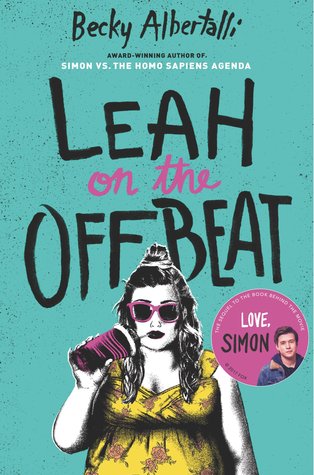 Title: Leah On The Offbeat (Creekwood #2)
Author: Becky Albertalli
Published: April, 2018 by Penguin
RRP: $17.99
Pages: 343
Rating:






Purchase: The Book Depository
Leah Burke – girl band drummer, master of deadpan, and Simon Spier's best friend from the award-winning Simon vs. the Homo Sapiens Agenda – takes centre stage in this novel of first love and senior-year angst.

When it comes to drumming, Leah Burke is usually on beat – but real life isn't always so rhythmic. An anomaly in her friend group, she's the only child of a young, single mum, and her life is decidedly less privileged. And even though her mom knows she's bisexual, she hasn't mustered the courage to tell her friends – not even her openly gay BFF, Simon.
Final Thoughts:
Leah is an interesting one. While I enjoyed stepping back into the world of Simon, Bram and their friends, I felt like some of the magic was lost in this instalment. The driving force of the drama in Leah's life is Leah. Some of it felt understandable while other parts seemed like they could have easily been resolved with a conversation. It can be frustrating for the reader when you can see things clearer than the character can themselves. Instead of shocking me with plot twists, instead I felt like this book delivered more on the 'finally' moments, where a book's worth of angsty build up was eventually relieved.

With Leah revealing herself as bisexual to no one but the reader, we get to see her pine after Abby Suso, the focal point of blackmailer Martin's desires in the previous book. There is a lot of hero worship for Abby throughout this one, as Leah watches this girl, unable to make a move because she's 'straight' and dating one of her best friends. Yes, it's that kind of angst. Perhaps I've moved on a little, my tastes changing as I get older, but I just found it hard to sit through a whole book of pining.
There were a few side plots that kept things interesting, like Simon and Bram stressing over college and keeping their friends together, Leah's relationship with her single mother and her feelings towards her mum's new boyfriend. Even the racism plot was thought-provoking, particularly for how strongly Leah felt about it, shunning one of her long-term friends because of something they said. Normally characters brush things off with a simple apology and things carry on, but here Leah's view of her friend was very much changed, and it impacted things quite a bit. I liked that.
With these bits and pieces adding to the book, I was still able to enjoy my time spent with Leah, albeit wishing she would get her act together romantically a lot sooner. I think because of that, I spent much longer reading this than I would have thought. It just wasn't one of those can't put down books, which I'm a bit dismayed over. Perhaps seeing things played out as a movie may reignite my love for this world, but having put down this book after a month or two of making my way through it, I'm happy to leave things here.