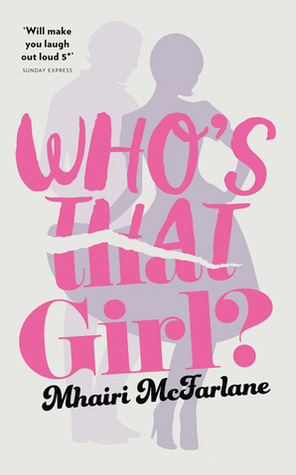 Title: Who's That Girl?
Author: Mhairi McFarlane
Published: April, 2016 by HarperCollins
Pages: 535
My Rating:






Purchase: The Book Depository
When Edie is caught in a compromising position at her colleagues' wedding, all the blame falls on her – turns out that personal popularity in the office is not that different from your schooldays. Shamed online and ostracised by everyone she knows, her boss suggests an extended sabbatical – ghostwriting an autobiography for hot new acting talent, Elliot Owen. Easy, right?

Wrong. Banished back to her home town of Nottingham, Edie is not only dealing with a man who probably hasn't heard the word 'no' in a decade, but also suffering an excruciating regression to her teenage years as she moves back in with her widowed father and judgey, layabout sister.

When the world is asking who you are, it's hard not to question yourself. Who's that girl? Edie is ready to find out.
Final Thoughts:
How can her books be so good? I just want to live in them forever and ever. While the plots have differed, they've all managed to draw out that elusive, yet familiar, 'magical romance' feeling in me. Sometimes I just feel like I must have become jaded, like the book couplings I'm reading are bland stick figures being pushed together for the sake of it, yet then Mhairi brings out a new book and I'm back. I actually want to stop everything and READ. Edie's adventure just kept going and going and going. With so much emotion packed into this book, I couldn't help but struggle through the pain she felt and cheer for her too.

Read Full Review?