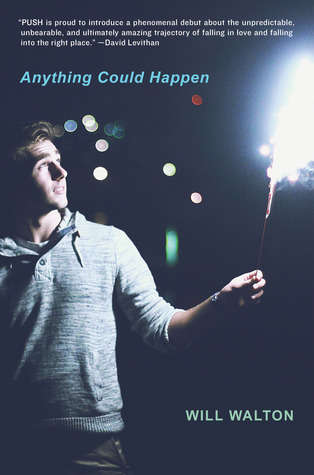 Title: Anything Could Happen
Author: Will Walton
Published: May, 2015 by Push
Pages: 288
My Rating:






Purchase: The Book Depository
Tretch lives in a very small town where everybody's in everybody else's business. Which makes it hard for him to be in love with his straight best friend. For his part, Matt is completely oblivious to the way Tretch feels — and Tretch can't tell whether that makes it better or worse.

The problem with living a lie is that the lie can slowly become your life. For Tretch, the problem isn't just with Matt. His family has no idea who he really is and what he's really thinking. The girl at the local bookstore has no clue how off-base her crush on him is. And the guy at school who's a thorn in Tretch's side doesn't realize how close to the truth he's hitting.

Tretch has spent a lot of time dancing alone in his room, but now he's got to step outside his comfort zone and into the wider world. Because like love, a true self can rarely be contained.
Final Thoughts:
Having tried starting another book and failing to have it hold my attention, I switched it out for this one and found myself basically unable to function. I had to read this book. I haven't switched on my TV since I started this one—that's how much I needed to keep reading it. Tretch—while he may have had a weird name, he was very easy to sympathise with and cheer for. His plight may not have been anything ground breaking, but it reeled you in with its loveable characters and kept you wanting the best for them. Finding a YA book with a good coming out story 10 years back when I was a teenager was next to impossible, so it makes me happier to know that books like this one are out there now.

Read Full Review?