Waiting on Wednesday was started by Breaking the Spine and serves to showcase those pesky books that aren't released yet, but that we're eagerly awaiting! This week, my WoW is…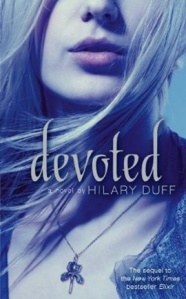 Title: Devoted (Elixir #2)
Author: Hilary Duff
Published: 11 October, 2011 by Simon & Schuster
Since Sage was kidnapped, Clea has no way of knowing if he is alive or dead. And even though she has only just discovered they were soulmates, she feels like a part of her is lost forever. What's worse, she can't even turn to her best friend Ben—because every time she looks at him, all she sees is his betrayal.

But waiting for something to happen is not an option, so Clea is ready for action. Suffering through dreams of seeing Sage with another woman, she makes an uneasy alliance with Sage's enemies and sets out to be reunited with Sage…in this life or the next.
I know celebrity written books tend to get frowned upon, but Elixir was actually quite enjoyable. If you've been avoiding it like the plague because of the author, maybe try it from the library and see what you think. It plays heavily on reincarnation, soul mates and immortality. And after the way the first book ended, it was begging for a sequel. I'm glad that's happening. I'm not too fond of the cover design change though. The first book really stood out with its faux-suede purple cover with the flower, which had relevance to the story. It seems they're trying a new direction with the artwork, and I think it looks too generic now. Either way, I'll still be buying.
What are you waiting on? Feel free to link me up and I'll check yours out!