Waiting on Wednesday was started by Breaking the Spine and serves to showcase those pesky books that aren't released yet, but that we're eagerly awaiting! This week, my WoW is…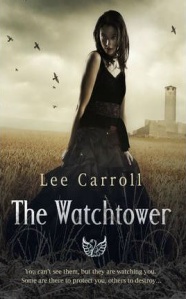 Title: The Watchtower (Black Swan Rising #2)
Author: Lee Carroll
Published: 4 August, 2011 by Bantam Press
Warning: This is Book 2 in the series, so there may be spoilers in this summary.
Jewelry designer Garet James is still coming to terms with the astounding revelation in BLACK SWAN RISING that she is the last in a long line of women sworn to protect the world from evil. Now she has received a sign from Will Hughes, the 400-year-old vampire who once helped her defeat the evil threatening to destroy New York City. Hughes, tortured by his own violent history which is vividly reenacted here, has asked her to join him on a quest to rid himself of his curse of vampirism. While looking for Will in Paris, Garet encounters a number of mysterious figures — an ancient botanist metamorphosed into the oldest tree in Paris, a gnome who lives under the Labyrinth at the Jardin des Plantes, a librarian at the Institut Oceanographique, and a dryad in the Luxembourg Gardens.

Each encounter leads Garet closer to finding Will Hughes, but she realizes that she's not the only one who's trying to find the way to the magical world called the Summer Country. As Garet struggles to understand her family legacy, each answer she finds only leads to more questions — and to more danger…
I've been in a reading frenzy this past week and a half, trying to make the most of my break between semesters at Uni. Amidst all of my library books, I stumbled upon the first book, Black Swan Rising, in this new urban fantasy trilogy. You can check out my review here if you want to find out more. It was such a suprisingly enjoyable read, I really couldn't put it down. So I'm eagerly awaiting this next instalment. Luckily, it's only a few weeks away. I went and pre-ordered myself a copy as soon as I'd finished the first one.
Also, my giveaway ends this Sunday, so if you haven't already entered, check it out for a chance to win one of the books in The Demon's Lexicon trilogy.
What are you waiting on? Feel free to link me up and I'll check yours out!