In My Mailbox is a meme hosted by The Story Siren, which allows bloggers to share what books they've received in the past week. They can be from stores, contests, tours or publishers!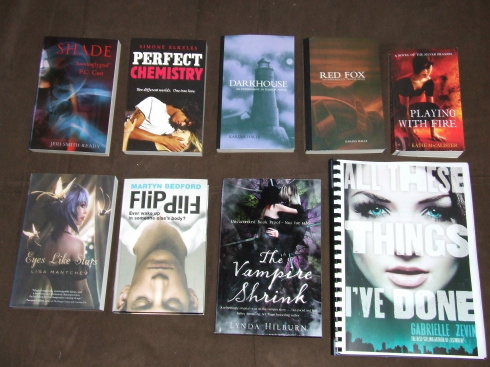 • Shade by Jeri Smith-Ready (won)
• Perfect Chemistry by Simone Elkeles (won)
• Darkhouse by Karina Halle (thanks to Author)
• Red Fox by Karina Halle (thanks to Author)
• Playing With Fire by Katie MacAlister (purchased)
• Eyes Like Stars by Lisa Mantchev (purchased)
• Flip by Martyn Bedford (purchased)
• The Vampire Shrink by Lynda Hilburn (thanks to Publishers)
• All These Things I've Done by Gabrielle Zevin (thanks to Publishers)
The only one I actually bought this week was Flip, which I picked up while at the Maria V. Snyder signing in Brisbane. It has an interesting cover, if you flip it upside down, it has the cover model with his eyes open on the back and the barcode is actually on the spine. I ordered Eyes Like Stars a couple weeks ago from Book Depository and Playing With Fire is one my mother brought home from the grocery store because she thought I might like it – Thanks Mum. Thanks to Nina from Death Books and Tea for Shade and Perfect Chemistry, I can't wait to get into those two. Also thanks to Karina Halle for sending me her first two books, I'll start Darkhouse soon. Plus, another thanks to the people at Pan Macmillan for sending me the last two books in the photo. I plan on reading All These Things I've Done this week. I actually prefer the Australian cover over the white one with the chocolate heart.
Here are my reviews from the past week:
Kate, Lauren Fallen #3, Passion
Link up to your mailbox and I'll be sure to check it out!