Stacking The Shelves is a meme hosted by Tynga's Reviews all about sharing the books you are adding to your shelves, may it be physical or virtual. This means you can include books you buy in physical store or online, books you borrow from friends or the library, review books, gifts and of course ebooks!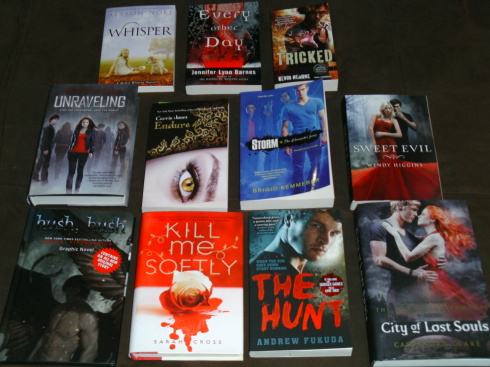 Titles link back to Goodreads
• Whisper by Alyson Noel (thanks to Publisher)
• Every Other Day by Jennifer Lynn Barnes (thanks to Publisher)
• Tricked by Kevin Hearne (purchased)
• Unraveling by Elizabeth Norris (purchased)
• Endure by Carrie Jones (purchased)
• Storm by Brigid Kemmerer (purchased)
• Sweet Evil by Wendy Higgins (purchased)
• Hush Hush: Graphic Novel by Becca Fitzpatrick (purchased)
• Kill Me Softly by Sarah Cross (purchased)
• The Hunt by Andrew Fukuda (thanks to Publisher)
• City Of Lost Souls by Cassandra Clare (purchased)
I took a detour from my reading after I got stuck of Red Glove for over four weeks, so I decided not to post any of my book goodies until I got back into reviewing. I've since finished that book, as well as Endure. Neither particularly excited me, but I'm hoping City Of Lost Souls will fix that slump for me. Those books usually suck me back in. I was one of those that actually enjoyed the Simon focus last time around. With my bookshelves still packed away in storage, I've just got boxes of books shoved under my bed and now piles growing around the room. These have only added to that. Not that that's a bad thing, I love getting more books. I just wish I had room to display them again.
Here are my latest reviews if you want to check them out:
Black, Holly The Curse Workers #2, Red Glove
Jones, Carrie Need #4, Endure
Link up to your mailbox and I'll be sure to check it out!