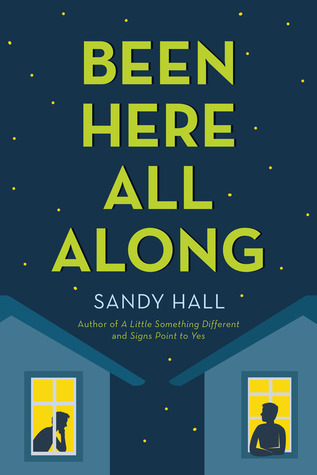 Title: Been Here All Along
Author: Sandy Hall
Published: July, 2017 by Pan Macmillan
Pages: 224
Rating:






Purchase: The Book Depository
Gideon always has a plan. His plans include running for class president, becoming head of the yearbook committee and having his choice of colleges. They do not include falling head over heels for his best friend and next-door neighbour, Kyle. It's a distraction. It's pointless, as Kyle is already dating the gorgeous and popular head cheerleader, Ruby. And Gideon doesn't know what to do . . .

Kyle finally feels like he has a handle on life. He has a wonderful girlfriend, a best friend willing to debate the finer points of Lord of the Rings, and social acceptance as captain of the basketball team. Then, both Ruby and Gideon start acting really weird, just as his spot on the team is threatened, and Kyle can't quite figure out what he did wrong . . .
Final Thoughts:
With characters so vanilla, I kept wondering why I was reading this. It wasn't inherently bad, I mean, I got through it in a few lunch breaks, but there was just no meat to it. Occasionally, some issue would arise and get my hopes up that there'd be some drama, something to invest in, but every time an easy out would appear to solve the problem. It seemed like all of the characters were made simply to be likeable, rather than to be real. Sure, it was sort of romantic, watching best friends realise they like each other, but it was just fluff.

Read Full Review?