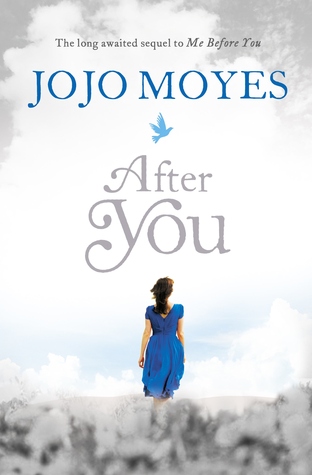 Title: After You (Me Before You #2)
Author: Jojo Moyes
Published: September, 2015 by Michael Joseph
Pages: 407
My Rating:






Purchase: The Book Depository
Louisa Clark is no longer just an ordinary girl living an ordinary life. After the six months spent with Will Traynor, she is struggling without him. And when an extraordinary accident forces Lou to return home to her family, she can't help but feel she's right back where she started.

In a church basement, with the motley crew of the support group Moving On, Lou attempts to kick-start her life again. And when she meets strong, capable Sam Fielding things seem like they are going in the right direction. This is until a figure from Will's past appears out of the blue . . .
Final Thoughts:
I went into this expecting too much. Or something different. I'm not quite sure. It IS about Louisa moving on with her life, but much of the book is taken up, or rather, derailed, by Lily, a teenage daughter of Will's, unbeknownst to him at the time of his suicide. And yes, that gets brought up, throwing around blame, that the knowledge of her existence could have possibly changed his mindset. The book really comes across as the Lily story, with Lou on the outside, having the occasional life problem of her own as she tries to bend to Lily's whims. This is pretty much where my problem with the book lies.

Read Full Review?