In My Mailbox is a meme hosted by The Story Siren, which allows bloggers to share what books they've received in the past week. They can be from stores, contests, tours or publishers!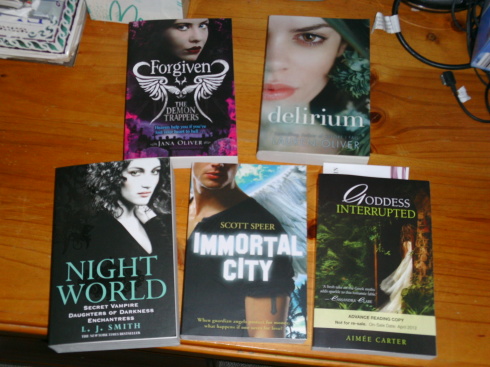 • Forgiven by Jana Oliver (purchased)
• Delirium by Lauren Oliver (purchased)
• Night World: Vol 1 by L.J. Smith (purchased)
• Immortal City by Scott Speer (purchased)
• Goddess Interrupted by Aimee Carter (thanks to Publisher)
So it's been a bit slow around here lately. I only read one book last week–well I only completed one book–I'm midway through two others at the moment. The long weekend isn't helping with my reading. I'm staying at a friend's for the easter break and well, solitary reading doesn't really fit the bill. Most of these books here are ones I picked up at Kmart last weekend. I was going to grab Pandemonium as well, but it's in a larger format, so I'll wait until I can get one to match the size of Delirium. I thought I'd heard good things about Night World, but it turned out, that I was thinking of another series that had been put out in bind-up form. So–oh well, maybe I'll end up liking this one, maybe I won't. My UK copy of Immortal City came in the mail, and I was all excited–but then I tried stacking a heap of books on the shelf above my desk at once and they ended up tumbling to the floor, the cover bending back in half–grr. Still perfectly readable–but I'm annoyed with myself. Anyway, it's Easter today (and a certain book blogging Kate's birthday!), so I'm going to go raid the chocolate. Have fun reading!
Here are my latest reviews if you want to check them out:
Carter, Aimee Goddess Test #1, The Goddess Test
Link up to your mailbox and I'll be sure to check it out!