In My Mailbox is a meme hosted by The Story Siren, which allows bloggers to share what books they've received in the past week. They can be from stores, contests, tours or publishers!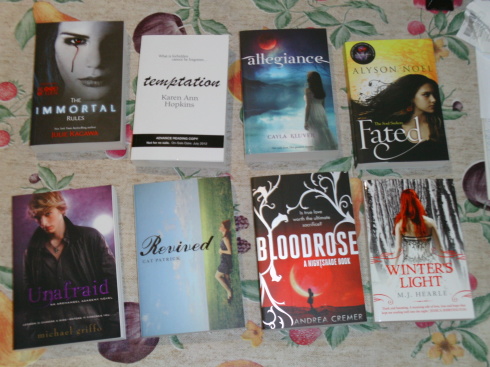 • The Immortal Rules by Julie Kagawa (thanks to Publisher)
• Temptation by Karen Ann Hopkins (thanks to Publisher)
• Allegiance by Cayla Kluver (thanks to Publisher)
• Fated by Alyson Noel (thanks to Publisher)
• Unafraid by Michael Griffo (thanks to Publisher)
• Revived by Cat Patrick (purchased)
• Bloodrose by Andrea Cremer (purchased)
• Winter's Light by M.J. Hearle (thanks to Publisher)
I've been in Sydney the past week on a business trip, took a stack of books, but I never got around to reading them. I did get some reading done on the plane, but not enough to write any reviews. I will fix that soon. When I got back a couple days ago, I was met with six of these books–so thanks to those who sent them to me! I don't know where to start. I'm tempted to pick up The Immortal Rules, but Fated sounds pretty good too.
Here are my latest reviews if you want to check them out:
Smith, Alexander Gordon Escape From Furnace #5, Execution
Link up to your mailbox and I'll be sure to check it out!