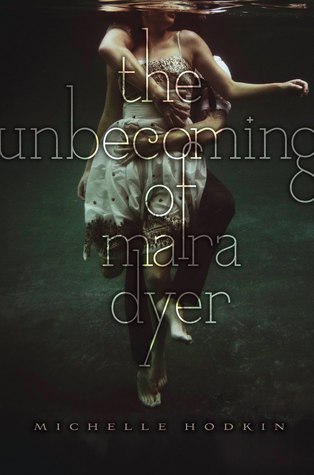 Title: The Unbecoming of Mara Dyer (Mara Dyer #1)
Author: Michelle Hodkin
Published: March, 2012 by Simon Pulse
Thanks: Simon & Schuster, AU
Pages: 452
My Rating:






Purchase: The Book Depository
Mara Dyer doesn't think life can get any stranger. She wakes from a coma in hospital with no memory of how she got there or of the bizarre accident that caused the deaths of her best friends and her boyfriend, yet left her mysteriously unharmed. The doctors suggest that starting over in a new city, a new school, would be good for her and just to let the memories gradually come back on their own.

But Mara's new start is anything but comforting. She sees the faces of her dead friends everywhere, and when she suddenly begins to see other people's deaths right before they happen, Mara wonders whether she's going crazy! And if dealing with all this wasn't enough, Noah Shaw, the most beautiful boy she has ever seen can't seem to leave her alone… but as her life unravels around her, Mara can't help but wonder if Noah has another agenda altogether…
Final Thoughts:
I went into this book with an open mind. I really tried to like it, but there were just so many obstacles that kept getting in my way. With clichés all over the place, it became increasingly clear what kind of book I was in store for. Mara is another one of those characters that thinks she's pretty smart, but isn't. Her internal dialogue grated on me early on. Listening to her rationalise her choices to herself, all I could think was, 'this guy is a douche, you know he's a douche, you've said so yourself. Oh, Mara, why?'

Read Full Review?