In My Mailbox is a meme hosted by The Story Siren, which allows bloggers to share what books they've received in the past week. They can be from stores, contests, tours or publishers!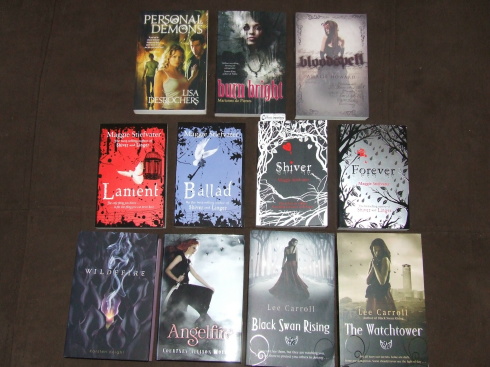 • Personal Demons by Lisa Desrochers (borrowed from Brittany)
• Burn Bright by Marianne de Pierres (purchased)
• Bloodspell by Amalie Howard (purchased)
• Lament by Maggie Stiefvater (purchased)
• Ballad by Maggie Stiefvater (purchased)
• Shiver by Maggie Stiefvater (purchased)
• Forever by Maggie Stiefvater (purchased)
• Wildefire by Karsten Knight (purchased)
• Angelfire by Courtney Allison Moulton (purchased)
• Black Swan Rising by Lee Carroll (purchased) – My review
• The Watchtower by Lee Carroll (purchased)
Finally my UK copies of Shiver and Forever arrived. I also went and picked Lament and Ballad. I'm going to try and get through as many of Maggie's books before her workshop at Brisbane Writer's Festival in September. I can't wait to go to that. I borrowed Personal Demons off a friend and I'll be getting to that in September. I've heard some not so great things about it, so my expectations aren't very high, but we'll see. Bloodspell, Wildefire and Angelfire are ones I ordered from Book Depository and they arrived in only 5 days. I've been meaning to order them for a while so it's good to have them on my shelf. Hopefully I get time to read them soon. I read Black Swan Rising last month when I stumbled across it at my local library. It was one I really enjoyed, so now I finally have myself a copy, plus the recently released sequel The Watchtower. Hopefully it's just as good. There's just too many books I want to read that I can't pick from. If you've read any that you think I should put at the top of my list, let me know.
Here are my reviews from the past week:
Skovron, Jon, Misfit
Zevin, Gabrielle Birthright #1, All These Things I've Done
Link up to your mailbox and I'll be sure to check it out!