In My Mailbox is a meme hosted by The Story Siren, which allows bloggers to share what books they've received in the past week. They can be from stores, contests, tours or publishers!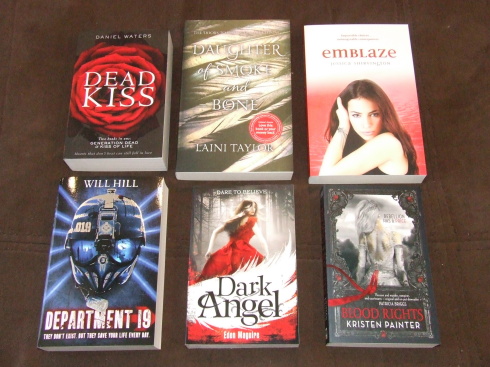 • Dead Kiss by Daniel Waters (purchased)
• Daughter Of Smoke And Bone by Laini Taylor (purchased)
• Emblaze by Jessica Shirvington (purchased)
• Department 19 by Will Hill (purchased)
• Dark Angel by Eden Maguire (purchased)
• Blood Rights by Kristen Painter (purchased)
I stopped in to Kmart on Friday to see if they had Angel Arias in a few days early. No such luck. I did however end up walking out with six books I hadn't intended on buying. I didn't particularly like this Daughter of Smoke and Bone cover when I'd seen stock photos online, but it looks a lot better in person. The shinyness won me over. Department 19 had been discounted to $4, so I grabbed it. It's about some type of government conspiracy involving vampires. It's going in my some day pile. I still need to start Jessica Shirvington's series, since Emblaze is book three. I bought it thinking it might push me into making a move on those soon.
Here are my latest reviews if you want to check them out:
Faegen, Trinity The Mephisto Covenant #1, The Mephisto Covenant
Wignall, K.J. Mercian Trilogy #1, Blood
Link up to your mailbox and I'll be sure to check it out!