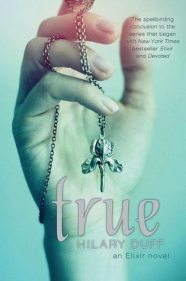 Title: True (Elixir #3)
Author: Hilary Duff
Published: April, 2013 by Simon & Schuster
Pages: 287
My Rating:






Purchase: The Book Depository
Following the harrowing events of Elixir and Devoted—and the ceremony that almost killed Sage—Clea faces a new reality: With Sage's soul in Nico's body, the love of her life looks an awful lot like her best friend's boyfriend. Can Clea and Sage really be happy under these circumstances?

Clea wants to try to enjoy their new life together, but Sage is acting different—angry—and she struggles to keep her friends from finding out what has happened to him. Something is clearly haunting Sage, and Clea is losing control. Can she trust her friends with the dangerous truth, or will she have to risk losing Sage to madness?
Final Thoughts:
Coming from a massive Hilary fan from way back, I have to say I didn't like this book. What happened? Elixir showed a lot of promise, adding in mystery, warring factions, and a fun romance. It went downhill in the second book, but compared to this one, it was a masterpiece. Okay, it wasn't a masterpiece, but it put this one to shame. There's barely a plot anymore and the romance, it's hardly setting a good example. Sage has become physically abusive and Clea just puts up with it. What's worse is that she tells us she's not one of those girls, but everything she does just shows that she is.

Read Full Review?