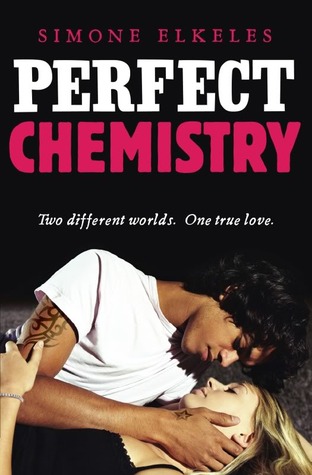 Title: Perfect Chemistry (Perfect Chemistry #1)
Author: Simone Elkeles
Published: December, 2008 by Simon & Schuster
Pages: 368
Rating:






Purchase: The Book Depository
When Brittany Ellis walks into chemistry class on the first day of senior year, she has no clue that her carefully created "perfect" life is about to unravel before her eyes. She's forced to be lab partners with Alex Fuentes, a gang member from the other side of town, and he is about to threaten everything she's worked so hard for—her flawless reputation, her relationship with her boyfriend, and the secret that her home life is anything but perfect.

Alex is a bad boy and he knows it. So when he makes a bet with his friends to lure Brittany into his life, he thinks nothing of it. But soon Alex realizes Brittany is a real person with real problems, and suddenly the bet he made in arrogance turns into something much more. In a passionate story about looking beneath the surface, Simone Elkeles breaks through the stereotypes and barriers that threaten to keep Brittany and Alex apart.
Final Thoughts:
It may have taken me five years to get around to this long-standing resident on my bookshelf, but time hasn't diminished it. Even with the characters' use of flip phones, I never found it dated. Brittany and Alex simply took hold of the story and drew me right into their complicated high school and home lives. With alternating perspectives, each are quite distinct, never confusing you as to whose head you're in—Alex, the gang member, putting up a front to keep his family safe, and Brittany, the head cheerleader, putting up her own front to appease her parents, help with her disabled sister, and make their lives easier.

Read Full Review?