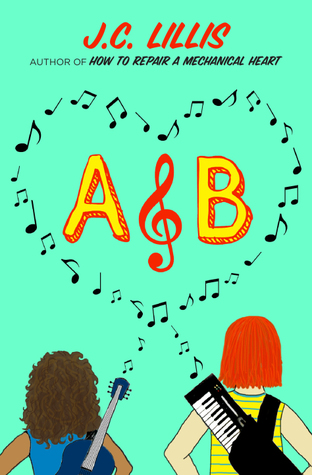 Title: A&B
Author: J.C. Lillis
Published: November, 2016
Pages: 318
My Rating:






Purchase: Kindle
Eighteen-year-old Barrie Krumholtz is a super-tall optimist hell-bent on a single goal: securing a slot on Pop University, a reality show for singer-songwriters helmed by her #1 musical idol. When she humiliates herself on national TV and loses a spot in the finals to smug balladeer Ava Alvarez, the door to Barrie's well-hidden dark side swings open. Never a quitter, she uses her bitter envy of Ava to shape a bold new artistic direction, and people love it. But when Ava ropes her into a secret collaboration, it sparks feelings neither girl expected—feelings that might threaten their creative identities and distract them from their professional goals.

Can love and ambition live side by side? Is happiness an art-killer? They'll figure it out with the help of a blue guitar named Fernando, a keyboard named Rosalinda, and a few new friends who feel like home.

(Rated R for Rivalry, Romance, and Really Neat Subplot featuring Brandon and Abel from HOW TO REPAIR A MECHANICAL HEART.)
Final Thoughts:
Being the companion to my much loved, and favourite book read this year, How To Repair A Mechanical Heart, I'm probably going to judge this one harsher than if it were a standalone. Barrie and Ava were great characters, but fresh off the first book, my heart still lies with Brandon and Abel. Luckily for me, they did more than just cameo briefly—they got their own subplot! A decade has passed and the guys are now my age, so seeing where their lives had taken them was heaps of fun. But the heart of the story lies with Barrie, and her jealousy/humungous crush on the reality show contestant that knocked her out of competing in Pop University, Ava.

Read Full Review?