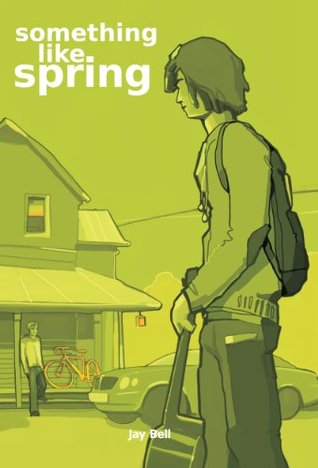 Title: Something Like Spring (Something Like #4)
Author: Jay Bell
Published: January, 2014 by Jay Bell Books
Pages: 452
Rating:






Purchase: The Book Depository
Nothing in this world is permanent. Friends, lovers, even family, can all disappear in the blink of an eye. Without these anchors, it's all too easy to find oneself drifting.

Jason Grant doesn't have much, aside from a beat-up old guitar and knack for getting kicked out of foster homes. His latest placement is set to be just another in a long line of failures. Then he meets Caesar Hubbard, a handsome guy who lives down the hall. For the first time in his life, Jason wants to stay, which means learning to be part of a family, and not letting his feelings–or his actions–ruin his first real chance of falling in love.
Final Thoughts:
I didn't think anything could top Jace's story, but Jason's orphan tale is one that may have done it. With only a guitar to his name, he bounces around foster homes, his (intentional) bad behaviour getting him sent back to the group home, that is, until he meets the Hubbards. It's hard to picture a family more frustrating to be in than this one. Attracted to your foster brother can't be easy. With Jason lusting after Caesar, their eventual relationship was heart-warming, but also left me wanting more for poor Jason. Skip ahead a few years and Ben and Tim rejoin the book—this is where my love for the story really kicked off.

Read Full Review?