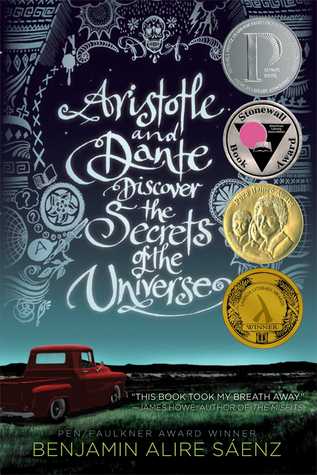 Title: Aristotle and Dante Discover the Secrets of the Universe
Author: Benjamin Alire Saenz
Published: April, 2014 by Simon & Schuster
Pages: 359
Rating:






Purchase: The Book Depository
Dante can swim. Ari can't. Dante is articulate and self-assured. Ari has a hard time with words and suffers from self-doubt. Dante gets lost in poetry and art. Ari gets lost in thoughts of his older brother who is in prison. Dante is fair skinned. Ari's features are much darker. It seems that a boy like Dante, with his open and unique perspective on life, would be the last person to break down the walls that Ari has built around himself.

But against all odds, when Ari and Dante meet, they develop a special bond that will teach them the most important truths of their lives, and help define the people they want to be. But there are big hurdles in their way, and only by believing in each other?and the power of their friendship?can Ari and Dante emerge stronger on the other side.
Final Thoughts:
This isn't your regular, fluffy romance full of swooning and kisses and happiness. It felt so much more real. There were a lot of sad moments, but the characters here just seemed to spark so much emotion. Watching Ari, a bit of angry loner, meet Dante, the boy with so much heart and charisma—it was such a journey. If you like something that's heavy on the drama, this is for you. The growth of their friendship, and of themselves, it really made the book something special. I never wanted to let it go.

Read Full Review?