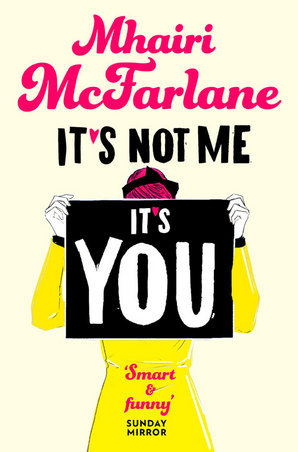 Title: It's Not Me, It's You
Author: Mhairi McFarlane
Published: June, 2015 by HarperCollins
Pages: 560
My Rating:






Purchase: The Book Depository
Delia Moss isn't quite sure where she went wrong. When she proposed and discovered her boyfriend was sleeping with someone else – she thought it was her fault. When she realised life would never be the same again – she thought it was her fault. And when he wanted her back like nothing had changed – Delia started to wonder if perhaps she was not to blame…From Newcastle to London and back again, with dodgy jobs, eccentric bosses and annoyingly handsome journalists thrown in, Delia must find out where her old self went – and if she can ever get her back.
Final Thoughts:
I've come to crave Mhairi's writing. Her characters are just so engaging. I've gotten to the point where I baulk at most books over 400 pages now, wondering if I have the time to commit to it, but not with this one. I lapped every page up, not wanting that feeling of belonging—the connection to these characters—to end. The world that she has created here was realistic, full of moments of hilarity, angst and tough decisions. Of course, it was a romance too, but I found it more a case of Delia's journey to find out who she was again rather than attaching herself to the next man to come along.

Read Full Review?