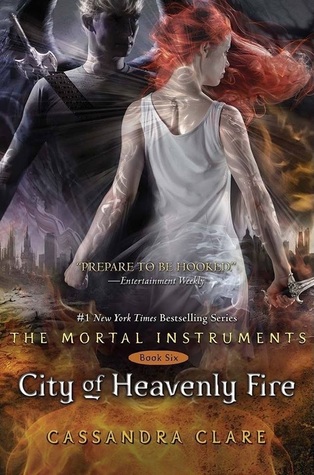 Title: City of Heavenly Fire (The Mortal Instruments #6)
Author: Cassandra Clare
Published: May, 2014 by Margaret K. McElderry
Pages: 725
My Rating:






Purchase: The Book Depository
Shadowhunters and demons square off for the final showdown in the spellbinding, seductive conclusion to the #1 New York Times bestselling Mortal Instruments series.

Darkness has descended on the Shadowhunter world. Chaos and destruction overwhelm the Nephilim as Clary, Jace, Simon, and their friends band together to fight the greatest evil they have ever faced: Clary's own brother. Sebastian Morgenstern is on the move, systematically turning Shadowhunter against Shadowhunter. Bearing the Infernal Cup, he transforms Shadowhunters into creatures of nightmare, tearing apart families and lovers as the ranks of his Endarkened army swell. Nothing in this world can defeat Sebastian, but if they journey to the realm of demons, they just might have a chance.

Lives will be lost, love sacrificed, and the whole world will change. Who will survive the explosive sixth and final installment of the Mortal Instruments series?
Final Thoughts:
This book ate my whole weekend. It was just so long. I've spent the past six hours on my couch getting through the last 300 pages, feeling like I just wanted it to end. Don't get me wrong, it was a great book, a great end to the series, but it was just so…I guess 'tiring' is the word. All of the characters get a look in, with most getting a fair share of the time spent exploring and wrapping up their plots, but in doing this, it really slowed down the pacing with all of the jumping back and forth to all of the different perspectives. It's probably a good thing for people who are sick of certain characters, but I just wanted to get to the end and put the heavy (you could use it as a brick) book down.

Read Full Review?