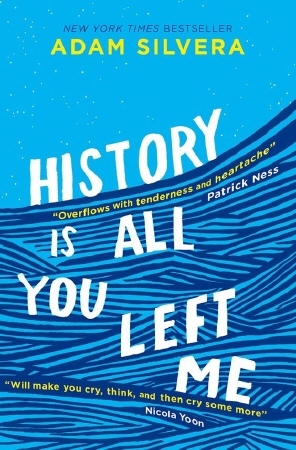 Title: History Is All You Left Me
Author: Adam Silvera
Published: February, 2017 by Simon & Schuster
Pages: 294
Rating:






Purchase: The Book Depository
When Griffin's first love and ex-boyfriend, Theo, dies in a drowning accident, his universe implodes. Even though Theo had moved to California for college and started seeing Jackson, Griffin never doubted Theo would come back to him when the time was right. But now, the future he's been imagining for himself has gone far off course.

To make things worse, the only person who truly understands his heartache is Jackson. But no matter how much they open up to each other, Griffin's downward spiral continues. He's losing himself in his obsessive compulsions and destructive choices, and the secrets he's been keeping are tearing him apart.

If Griffin is ever to rebuild his future, he must first confront his history, every last heartbreaking piece in the puzzle of his life.
Final Thoughts:
I don't know why I did this to myself again. That's not to say that this isn't a good book—I felt immersed in Griffin's grief, and loved all of the character building, both in the present and the flashback chapters—but there is a definite depressing undertone. I had to pick up another feel good book mid-way through this to give myself a break.
With chapters alternating back and forth between the past and the present, I struggled initially trying to find a balance. Having something interesting begin to happen in one time period, then being sent back to the other became frustrating. I would have preferred if the 'history' chapters were spaced randomly so you didn't know when to expect one.

Read Full Review?