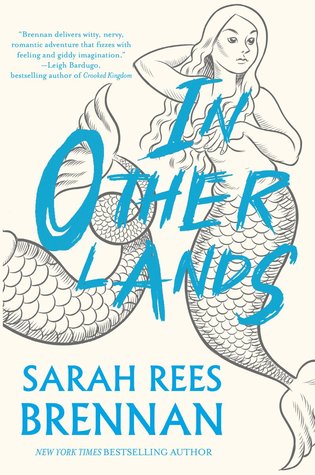 Title: In Other Lands
Author: Sarah Rees Brennan
Published: August, 2017 by Big Mouth House
Pages: 432
Rating:






Purchase: The Book Depository
"What's your name?"
"Serene."
"Serena?" Elliot asked.
"Serene," said Serene. "My full name is Serene-Heart-in-the-Chaos-of-Battle."
Elliot's mouth fell open. "That is badass."

The Borderlands aren't like anywhere else. Don't try to smuggle a phone or any other piece of technology over the wall that marks the Border—unless you enjoy a fireworks display in your backpack. (Ballpoint pens are okay.) There are elves, harpies, and—best of all as far as Elliot is concerned—mermaids.

Elliot? Who's Elliot? Elliot is thirteen years old. He's smart and just a tiny bit obnoxious. Sometimes more than a tiny bit. When his class goes on a field trip and he can see a wall that no one else can see, he is given the chance to go to school in the Borderlands.

It turns out that on the other side of the wall, classes involve a lot more weaponry and fitness training and fewer mermaids than he expected. On the other hand, there's Serene-Heart-in-the-Chaos-of-Battle, an elven warrior who is more beautiful than anyone Elliot has ever seen, and then there's her human friend Luke: sunny, blond, and annoyingly likeable. There are lots of interesting books. There's even the chance Elliot might be able to change the world.
Final Thoughts:
With a wisecracking mouth, an air of superiority and little regard for other people's feelings, I know Elliot was someone I wouldn't want to be around. Yet, I couldn't help but want to be more like him. His 'no apologies' attitude towards life and stupid people was one that I secretly wish I could adopt, or get away with adopting. Set in a magical world, with no hint of magic, instead filled with war training, politics and angsty teen romance, this quickly became a whole lot of fun.

Read Full Review?