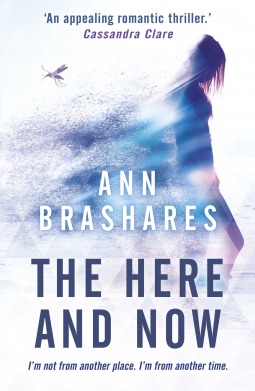 Title: The Here & Now
Author: Ann Brashares
Published: April, 2014 by Delacorte Press
Pages: 256
My Rating:






Purchase: The Book Depository
Follow the rules. Remember what happened. Never fall in love.

This is the story of seventeen-year-old Prenna James, who immigrated to New York when she was twelve. Except Prenna didn't come from a different country. She came from a different time—a future where a mosquito-borne illness has mutated into a pandemic, killing millions and leaving the world in ruins.

Prenna and the others who escaped to the present day must follow a strict set of rules: never reveal where they're from, never interfere with history, and never, ever be intimate with anyone outside their community. Prenna does as she's told, believing she can help prevent the plague that will one day ravage the earth.

But everything changes when Prenna falls for Ethan Jarves.
Final Thoughts:
Definitely not what I was hoping it would be. Less time travel, more time dawdling. There was nothing epic about the plot, nothing exciting to captivate me. It was more like I was held captive by my desire to finish the book and justify purchasing it. I didn't flat-out hate the book—it had its moments—but the characters weren't developed enough for me to care about them. It felt like they were just tokens moving around the board, easily exchangeable for another one that could have played the part of heroine/love interest without a blip.

Read Full Review?