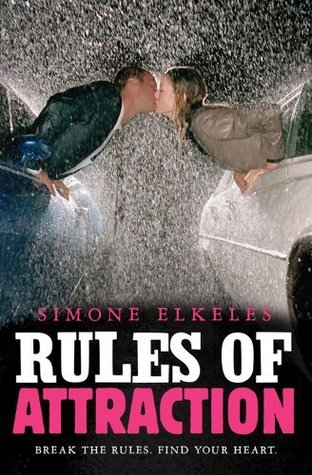 Title: Rules Of Attraction (Perfect Chemistry #2)
Author: Simone Elkeles
Published: April, 2010 by Simon & Schuster
Pages: 326
My Rating:






Purchase: The Book Depository
Carlos Fuentes isn't happy about leaving Mexico to start the "new" life his older Brother, Alex, has planned for him. Carlos like his freedom; living life on the edge and carving out his own path – just like Alex did.

Kiara Westford doesn't talk much; preferring instead to shut the world out. And when Carlos bounds into her life she struggles to understand him and his wild ways. Carlos is sure that Kiara thinks she's too good for him, which is just fine because he's not interested anyway, right? But when they finally open up to each other, the connection they feel shocks them both. Can they overcome their fears and realize that sometimes opposites really do attract?
Final Thoughts:
Much like Perfect Chemistry, I couldn't get enough of this one. Rules of Engagement is so similar in tone, but does so without feeling like a rehash of the first book. A couple of years have passed, and now we're focusing on Alex's younger brother, Carlos and his love interest, Kiara. I think I found these two even more enjoyable than Brittany and Alex (who make plenty of cameos)—there's less gang stuff this time around and more of a focus on the romance and snark.

Read Full Review?