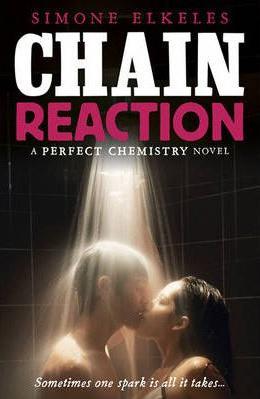 Title: Chain Reaction (Perfect Chemistry #3)
Author: Simone Elkeles
Published: August, 2011 by Simon & Schuster
Pages: 308
My Rating:






Purchase: The Book Depository
Luis Fuentes is a good boy who doesn't live with the angst that his big brothers, Alex and Carlos, have always lived with. Luis is smart, funny, and has big dreams of becoming an astronaut. But when he falls for the wrong girl,

Luis enters a dark world he's never known, and just when he thinks he's got life all figured out, learns some disturbing news about his family that destroys his positive outlook on life. Will that Fuentes bad boy streak come out with a vengeance and lure Luis to live on the edge like his new girlfriend and his own father?
Final Thoughts:
The spark seemed to have left with this one. It wasn't boring, but it just felt like more of the same. I didn't get all that invested with these characters as much as I did with Alex and Brittany or Carlos and Kiara. They just didn't seem well rounded this time. Aside from the pregnancy scare, Nikki didn't have much else going on in her life, and for Luis, it all led back to the gang stuff for him. I still enjoyed Chain Reaction, but found it much harder to find time to read it. I just didn't have that pull making me want to pick it up.

Read Full Review?