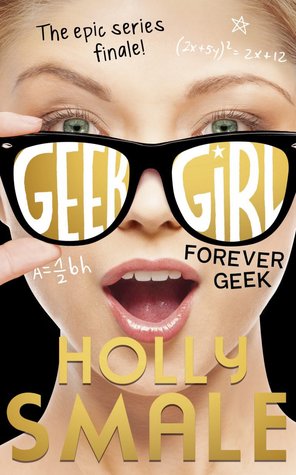 Title: Forever Geek (Geek Girl #6)
Author: Holly Smale
Published: March, 2017 by HarperCollins Children's Books
Pages: 400
Rating:






Purchase: The Book Depository
My name is Harriet Manners and I'll be a geek forever…

Harriet Manners knows almost every fact there is.

Modelling isn't a sure-fire route to popularity. Neither is making endless lists. The people you love don't expect you to transform into someone else. Statistically, you are more likely to not meet your Australian ex-boyfriend in Australia than bump into him there.

So on the trip of a lifetime Down Under Harriet's to-do lists are gone and it's Nat's time to shine! Yet with nearly-not-quite-boyfriend Jasper back home, Harriet's completely unprepared to see supermodel ex Nick. Is the fashion world about to turn ugly for GEEK GIRL?

It's time for Harriet to face the future. Time to work out where her heart lies. To learn how to let go…
Final Thoughts:
Harriet Manners has been an interesting one. It felt like these books could go on forever, but it feels good to finally have an ending. While Forever Geek was fun, I don't think it will go down as my favourite of the series. Set in Australia, Harriet's adventures predominantly involve Nat (not that the extra time with Nat is a bad thing), as the bulk of the cast were left behind in England. With the plot focussed on making Nat a success, avoiding/trying to run into Nick, and causing havoc along the way, there's a good chance fans of the series are going to eat this up.

Read Full Review?