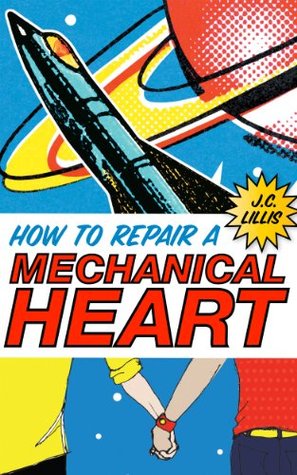 Title: How To Repair A Mechanical Heart
Author: J.C. Lillis
Published: September, 2012
Pages: 255
Rating:






Purchase: The Book Depository
Eighteen-year-old Castaway Planet fans Brandon and Abel hate bad fan fiction—especially when it pairs their number-one TV crushes of all time, dashing space captain Cadmus and dapper android Sim. As co-runners of the Internet's third most popular Castaway Planet vlog, they love to spar with the "Cadsim" fangirls who think Cadmus will melt Sim's mechanical heart by the Season 5 finale. This summer, Brandon and Abel have a mission: hit the road in an RV to follow the traveling Castaway Planet convention, interview the actors and showrunner, and uncover proof that a legit Cadsim romance will NEVER, EVER HAPPEN.

A Brandon and Abel romance: also not happening. Brandon's sick of his struggle to make "gay and Catholic" compute, so it's safer to love a TV android. Plus Abel's got a hot new boyfriend with a phoenix tattoo, and how can Brandon compete with that? But when mysterious messages about them start popping up in the fan community, they make a shocking discovery that slowly forces their real feelings to the surface. Before they get to the last Castaway Planet convention, Brandon's going to find out the truth: can a mechanical heart be reprogrammed, or will his first shot at love be a full system failure?
Final Thoughts:
So, this was fanficcing-tastisc. Aside from, maybe, Fangirl, I've never seen so much fanfic love in a book. And here, both the main characters were gay! It had me gripped in the best possible way. I should lament—but I'm won't—the poor disintegrating Sunday that met its demise when I started and finished this book that day. With so much to love about this book, from the cross-country convention road trip, flirting, internal warring over a religious upbringing, the geeking out and more flirting, I can't help but want to recommend this book. I don't want to let go of these characters—Brandon and Abel (and Bec) forever.

Read Full Review?