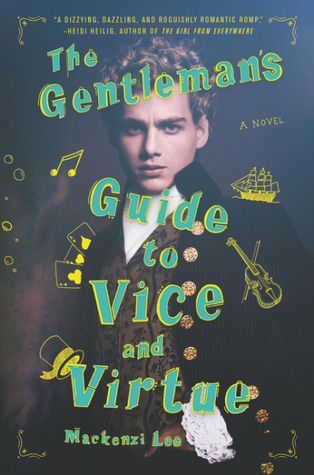 Title: The Gentleman's Guide to Vice and Virtue
Author: Mackenzi Lee
Published: June, 2017 by Katherine Tegen Books
Pages: 513
Rating:






Purchase: The Book Depository
Henry "Monty" Montague was born and bred to be a gentleman, but he was never one to be tamed. The finest boarding schools in England and the constant disapproval of his father haven't been able to curb any of his roguish passions—not for gambling halls, late nights spent with a bottle of spirits, or waking up in the arms of women or men.

But as Monty embarks on his Grand Tour of Europe, his quest for a life filled with pleasure and vice is in danger of coming to an end. Not only does his father expect him to take over the family's estate upon his return, but Monty is also nursing an impossible crush on his best friend and traveling companion, Percy.

Still it isn't in Monty's nature to give up. Even with his younger sister, Felicity, in tow, he vows to make this yearlong escapade one last hedonistic hurrah and flirt with Percy from Paris to Rome. But when one of Monty's reckless decisions turns their trip abroad into a harrowing manhunt that spans across Europe, it calls into question everything he knows, including his relationship with the boy he adores.
Final Thoughts:
It's strange thinking back on this one. I loved it to an extent, but I didn't fall in love with it. Perhaps it's the time it took me to finish it. I wanted to read it all the time, but I kept procrastinating each time I went to pick it up. Still, once I did, I'd find myself lost in the pages. Monty was a riot. He's one of those protagonists that just amuses you from start to finish. His personality reminds me of all of the snark and quick witted humour filled books that hooked me on YA six or seven years ago. Except this one, it was set in the 1700s. Though don't let that keep you away—anything but stale, many of the phrases turned read as though they're in a contemporary.

Read Full Review?