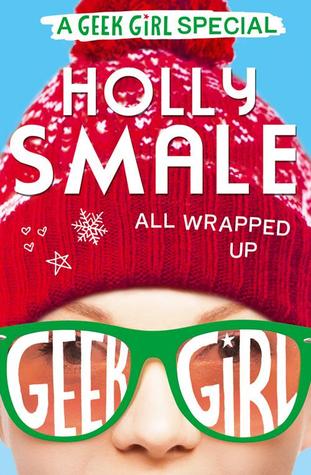 Title: All Wrapped Up (Geek Girl #1.5)
Author: Holly Smale
Published: November, 2015 by HarperCollins
Pages: 220
My Rating:






Purchase: The Book Depository
Harriet Manners knows a lot about Christmas.

She knows that every year Santa climbs down 91.8 million chimneys.

She knows that Rudolph the red-nosed reindeer was almost definitely a girl.

She knows that the first artificial Christmas trees were made out of goose feathers.

But this Christmas is extra special for Harriet, because four days ago she had her First Ever Kiss.

Now she just needs to work out what's supposed to happen next…
Final Thoughts:
Harriet is addicted to Christmas—that's pretty much what this novella tells you from the get go. There's even a gift receiver's checklist included for rating Harriet's Christmas gifting prowess. I'd missed that kind of wackiness as it seems to have dissipated in the later books. Still, it was weird stepping back in time, trying to remember where everybody was at. Set earlier in the series, Harriet is enthralled with her Aussie model boyfriend, Nick, waiting to hear from him about their first date. If you ship Nick/Harriet, you will eat this up. I'm not their biggest supporter, but even I enjoyed this.

Read Full Review?